Vegan cheese has come a long way over the years. While it's pretty easy to find in your local grocery store these days, national chain restaurants have some work to do to catch up with the times. The future is here and it's vegan! If you're craving some quick and tasty cheesy vegan dishes, you've come to the right place. Today I'm sharing three simple and delicious dairy-free dishes that you can enjoy for every meal of the day. Let's dive in! 
This saucy cheesy platter is na-cho average breakfast!
Oftentimes, when I'm talking to someone whose interested in going vegan, we end up talking about the foods they're hesitant to give up. Without a doubt, cheese is one of the main foods that people just can't seem to let go of. I get it! It was definitely one of the last foods I said goodbye to during my transition to veganism. And while there are lots of delicious vegan cheese options out there, vegan nacho cheese is my favorite, and dare I say, even better that the original?? My favorite recipe comes from Hot for Food and uses steamed carrots and potatoes and unsweetened plant milk to create its creamy base. Give this recipe a try or use your favorite recipe (or one of the delicious store bought options listed below) to create my crunchy, saucy and smoky recipe for vegan breakfast nachos below! 
Not in the mood to whip out your blender? A few of my favorite brands to pick up a the grocery store are Siete Cashew Queso, WayFare Nacho Cheddar, and Chipotle Bitchin' Sauce. All you have to do is heat and eat!
Crank your flavors up a notch with "nooch" in these Tofu Scramble Tacos.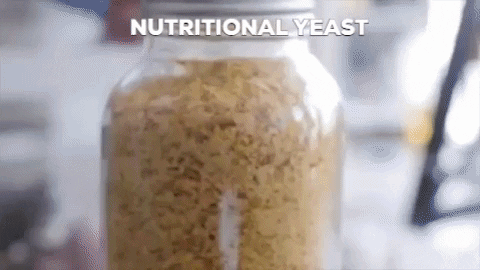 What do sunflower seeds, cauliflower florets, and eggplant have in common? They're just a few of the plants that can be transformed into delicious dairy-free cheese alternatives with a sprinkling of magical golden nutritional yeast flakes. Nutritional yeast a.k.a. "nooch" is more that a delicious source of cheesy vegan flavor. It's packed with nutrients including protein, B-6, folate, and niacin. I used a generous sprinkling of it in my recipe for perfectly portable Tofu Scramble Tacos. Give the recipe a try for yourself or experiment with it in your own cheesy vegan recipes! Foods Alive, Bragg, and Bob's Red Mill all sell great nutritional yeast flakes. 
Bring on the vegan cheddar shreds with Enchilada Casserole!
One pan dishes are some of my favorite meals to make, because they're simple to prepare, layered with lots of flavors and textures, and don't require lots of clean-up. This enchilada casserole scores high marks in all categories, especially flavor and texture. Saucy shredded jackfruit, sauteed veggies, tender corn tortillas, and gooey vegan cheddar shreds make this baked dish the perfect all-in-one meal for a weekly meal prep or weeknight dinner.
Dairy-Free is the way to be!
There are so many important reasons to choose vegan cheese options. Not only are they easy to prepare, they're delicious and compassionate alternatives to dairy produced on farms where cows are treated cruelly and our natural resources are being decimated. When we choose dairy-free options, we choose to create a better future for animals, the earth, our health, and each other.